Nishta Patel is a third-generation farmer and owner of Tarsadia Farms in Riverside, California. The tradition of farming in Nishta's family has a rich history spanning from the 1970s in Gujarat, India to the present in Riverside, California. April is Earth Month, so we spoke with Nishta about what sustainability means at Tarsadia Farms, how someone can become more sustainable in their own home, and what fruit from the farm is bringing her joy right now. 
Hi Nishta! Tell the BY community a little bit about who you are.  


I grew up in Orange County, went to Babson College, worked at a bank, and now run my family's citrus and avocado farm in Riverside, CA. During the pandemic, without the craziness of normal life, I had more time to spend on the orchard and found this incredible sense of inner peace. Today, I spend my time caring for and nurturing the land so that I can share this oasis that I love so much with others. 
Farming runs three generations deep in your family with roots in Gujarat, India. What does it mean to you to be able to carry this on today in Riverside, California? 


My grandparents, whose families had long been farmers in Gujarat, immigrated from India to Zambia and eventually to the United States in the 1970s. Our family history is rich with tales of grit and determination. My connection to that history is rooted in my work at Tarsadia Farms. It really has been a real eye-opener for me. Taking care of our orchard has brought me closer to my mom, grandpa, and the rest of my family. It's amazing how digging around in the dirt can help you discover new things about yourself that you never knew existed. I mean, who knew that my inner green thumb was waiting to blossom all along?! The fact that I'm carrying forward a legacy that spans continents and generations feels pretty mind-blowing. If I can keep our family's connection to the earth alive and pass it on to the next generation, I will consider my time well spent! 
You have a cool definition of the word "farmer." Can you share what it is, and how this influences the mission of Tarsadia Organic Farms?  


It's funny! Technically, my last name, Patel, means "farmer." The name was given to stewards of the land. To us, however, it's more than just being a steward of the land. It represents the core tenets of our family's values–healthy and sustainable growth of both body and soul. At Tarsadia Farms, our mission is to nourish our family and our community while protecting and replenishing the soil that feeds us. I may be a novice when it comes to farming, but I'm eager to embrace my ancestral roots and honor their innovative and humble spirit. Who knew that the farming bug would be so contagious?! I am thrilled to rekindle the lost art of farming and pave the way for generations to come.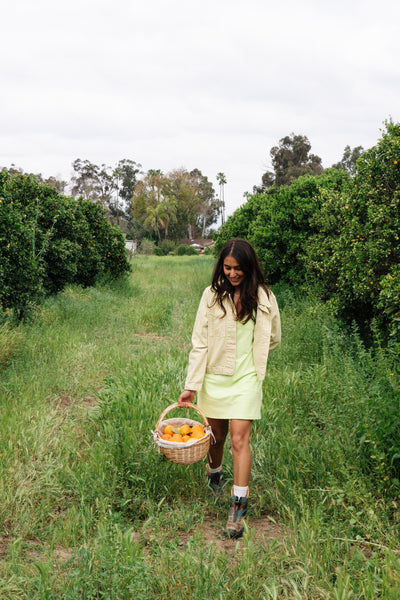 It's Earth Month and sustainability is top of mind. What practices do you have in place for sustainability at the farm?  


We're totally organic, so you won't find any harmful chemicals or pesticides here. And when it comes to watering our trees, we're all about saving H2O! We use drip irrigation to make sure we're not wasting a single drop. Speaking of our trees, we have millions of bees to help with pollination. But that's not all—we love our native bees, too! That's why we keep the native vegetation around the farm thriving. We know the animals and insects were here first, so we're committed to making sure they always have a home with us.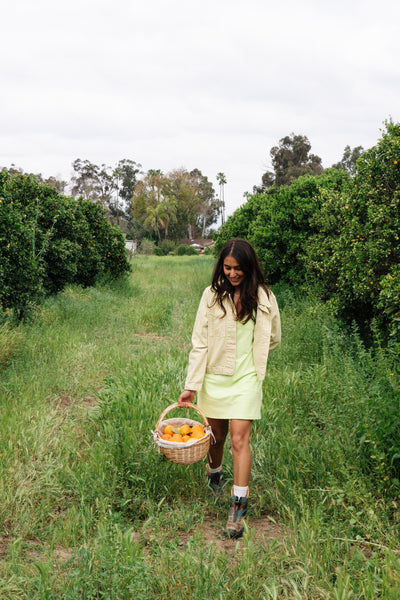 Do you have any tips for the rest of the BY community for becoming more sustainable in our own kitchens? 


Choosing local, seasonal, and organic produce is a great way to support your community and the environment while enjoying better-tasting food. Meal planning and storing produce properly can also help to reduce food waste and create rich soil for home gardens. Also—composting! It's not just for farmers anymore. Keep a little bin in your kitchen for all your food scraps and leftovers. Not only will it cut down on waste, but it'll also give you rich soil for your own little herb or veggie garden. 
What's your favorite fruit or vegetable that's ready to pick at the farm right now? 


I'm absolutely loving our Satsuma Mandarins right now! They are deliciously sweet, juicy, and easy to peel—perfect for a quick snack anytime, anywhere.  
What is your favorite piece of BY to #MoveInBeyond?  


Definitely the Spacedye Uplevel Midi Jumpsuit. It's a versatile go-to piece that keeps me feeling cute and cozy all the time. The Electric Royal color is a fun addition to my wardrobe! 
Where can the BY community find you IRL or online?  


You can always find me at Tarsadia Farms! But if you're looking to keep up with me online, you can follow me on Instagram @farmer_nish or @tarsadiafarms! 
Photography by Emma Jane Kepley