Megan Roup knows how to move. In 2017, with a background as a professional dancer and love for fitness, Megan founded The Sculpt Society. The mission of The Sculpt Society is to use dance-based fitness to empower people, especially women, through movement to feel their best and have fun while moving their bodies. With so much synergy between our missions, we're kicking off a two-week challenge today, called the Together We Move challenge with exclusive content for both of our communities. 


Since The Sculpt Society offers everything from dance cardio to sculpt, Megan understands the importance of pairing pieces with your movement. Before filming twelve videos for the Together We Move Challenge, Megan worked with the Beyond Yoga team to pick 5 outfits from the latest drop. Each outfit was carefully selected to make sure the fabric weight and support of the pieces would best serve her for the workouts. When you tune into the videos, you'll also meet Morgan and Yaris. All three women wear a different size in Beyond Yoga and have different fitness goals, but share the objective of feeling their best.  


Below are Megan's favorite outfits from the shoot, including looks matching Morgan and Yaris, to inspire you to find your next favorite Beyond Yoga outfit.  
Look 1: Chartreuse Spacedye Squared Bra and At Your Leisure Leggings
Look 2: Red Flower Spacedye Scarlet Crop Tank and Spacedye Midi Leggings
Look 3: Bright Persimmon Heather Spacedye Always On Cropped Tank and Spacedye Midi Leggings
Look 4: Peacock Blue Heather The Splits Hoodie, Spacedye Cropped Tank, and Spacedye Midi Leggings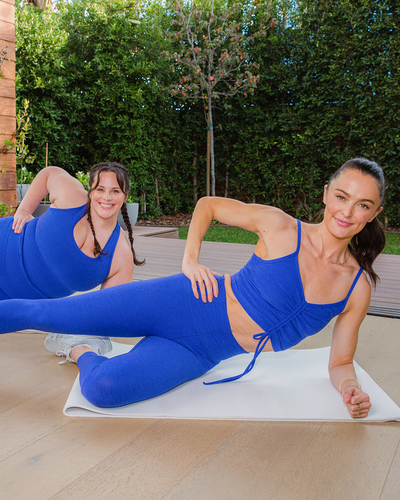 Look 5: Sapphire Blue Spacedye Centered Cropped Tank and Spacedye Centered Leggings