As a female-founded company, Women's History Month is one of our favorite times to celebrate the strength of the women in our community as well as their individual talents.  


Sabrina Chazen is a content creator who is breaking down barriers in the fashion space by showing that style is style at any size. We spoke with Sabrina at her home in Newport Beach about confidence, personal style, and finding community online.  
Hi Sabrina! Tell the BY Community a little bit about who you are. 


We could start with the cliche of "I'm a wife, mother, sister, daughter, friend, athlete, community member…" which yes, I am all those, but the reason I get to talk about these things and myself is because I share fashion—mostly plus-size—along with my personality, family, schtick, overall lifestyle, and some opinions, on Instagram. I love visuals and anything aesthetically pleasing. I have a distinct taste but appreciate others' perspectives. I can take forever to make a small choice and yet tend to make huge decisions in an instant. I'm a retail addict with a firm belief in making a statement based on your wardrobe at any size. 
It's Women's History Month and there are many women whose work left a legacy that made so much possible for women today. Who is one woman that you admire? 


I have been inspired by female founders who aren't afraid to share their beliefs when it comes to women's reproductive rights or size inclusivity. Beyond Yoga's CEO, Michelle Wahler, and my friend Ariel Gordon, founder of Ariel Gordon Jewelry are good examples. Michelle and Ariel both use their platforms to do more than sell clothing or jewelry.  I believe that business is business and sometimes we don't want personal beliefs shared and just want to shop but sometimes it's important to know a brands values when supporting them. I hope to be as brave as my platform hopefully continues to grow.
As a woman, what's one barrier that you've faced? What's one that you hope to break down for other women who come after you? 


The barrier I face most as an adult who loves clothing is that being plus-size keeps many doors closed. I'm learning that fatphobia, especially for women, is very real. I have always been a similar size, but I didn't feel the full weight of other people's judgement until I was a mother, woman, and content creator. You just keep knocking and taking every win. There are people who want to push size inclusivity and who get on board—and it's worth every "no" that comes along the way. 
What was your inspiration for starting your series, #SameStyleDifferentSize, on Instagram?  


The series is a true source of pride for me because I just believe in the depths of my soul that everyone can wear whatever they want, and wear it well, at any size. I wanted to show that at any size, weight, or age, you can wear the same thing as someone else who may have a completely different body type. Seeing the same garment on two women who look very different is helpful in so many ways. It's taken off and I see so many brands using the concept now. I know I was part of that and that feels positive.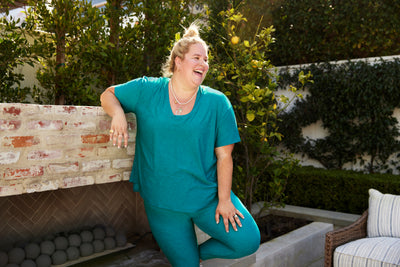 Has making these videos changed your relationship with your body?  


Ironically, for a moment, the focus on my body by sharing online kind of bothered me. I noticed it more than I did before. Very quickly, I shifted back into my confidence and steadfast belief that my body is the only one I will get in this life, and as long as I'm moving it as often as possible, I am strong and healthy at any size. And that's that!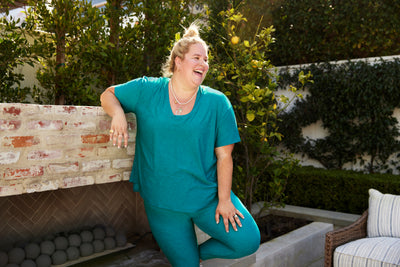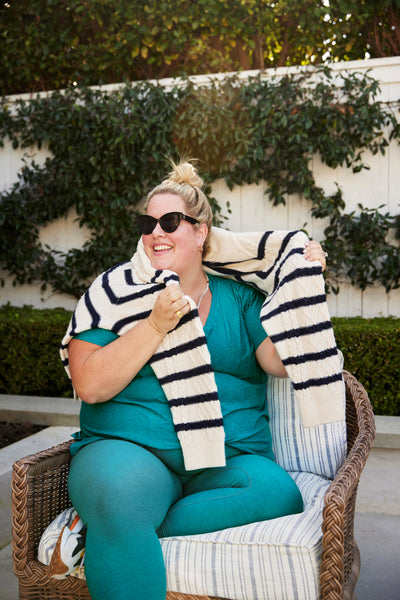 What kind of community have these videos created, both in person and online?  


Gosh, the community online is just the best. It sounds like another annoying cliche, but I will talk until my face turns blue about the fact that social media gives people a place to connect and see others in similar positions—be it sexuality, diet, race, interests, gender, size, etc.—living great, full lives. People always talk about the negatives of social media but I really get to see the very greatest side of it every day.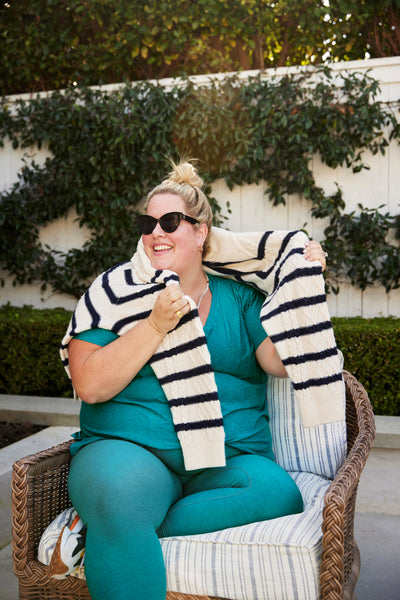 What's your favorite piece of BY to #MoveInBeyond? 


I'm obsessed with the Spacedye fabric. It's insanely soft. The Spacedye Out of Pocket Legging is my absolute favorite piece. 

Where can the BY Community find you online or IRL?

You can follow me at @sabrinachazen on Instagram!
Photography by Ye Rin Mok