You could say that LA-based stylist and creative director Erin Walsh has excellent taste. Not only does she dream up red carpet looks for the likes of Selena Gomez, Anne Hathaway, Kerry Washington and Ashley Park, she also inspires all of us here at BY with her innate, intentional sense of personal style. In addition to having a keen eye for fashion, Erin has a knack for storytelling as the co-founder of SBJCT: Journal, an online platform focused on extraordinary individuals, innovative ideas and important causes.  
When it comes to her own wardrobe, it's no surprise that this mom of three kids has perfected the whole relaxed-but-polished thing (just look at her Instagram for example). So we asked her to style some favorite Beyond Yoga pieces into four different everyday outfits. The result? Each look is super wearable and versatile, plus can be worn for a multitude of occasions from client meetings and coffee hangs to school drop-offs and grocery pick-ups.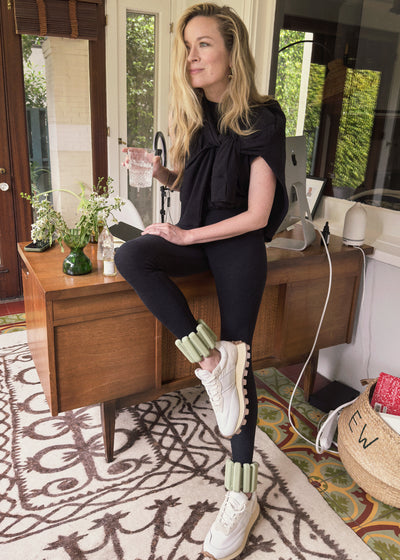 Where does styling a look start for you? Is it with the shoes, the clothes, an accessory? 

I think styling starts with an intention. How do you want to feel? Narrow that down to one word, whether it's confident, calm, collected, whatever word or feeling resonates. And then it becomes much easier to dress around that, to design your outfit around how you want to feel.    

So many people live in activewear. How can people elevate a look to feel more lifestyle versus active? 

I think we can throw out the old rulebook. Throw on nice shoes, fun jewelry and shades. You can also mix in dressier pieces, like a blazer or oversized white blouse. We all wear so many roles any given day, so it's nice to give every element of your wardrobe a little elevation to keep your style thread going. It will lift your mood in addition to your look.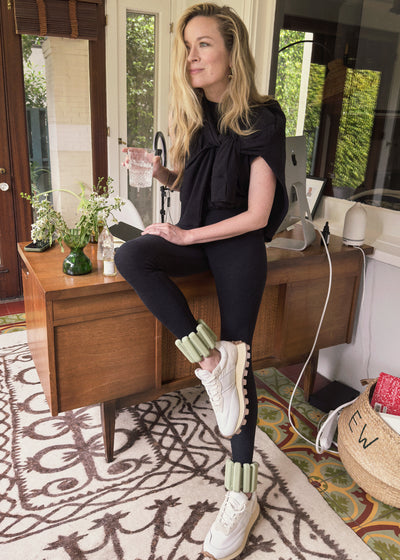 What's your favorite Beyond Yoga piece from the fall collection? 

I am obsessed with the Grey Sage color! The At Your Leisure Leggings and Spacedye Movement Skirt are especially SUCH a great vibe. Green is a healing color, which I love.
What are new fall color trends we'll see your clients wearing? 

I think leaning into quiet luxury for sure. It's one of the ways I can see elevated atheleisure having an even bigger impact. We will probably see a lot of monochromatic, easy dressing with pops of posh accessories. Set dressing is a great kind of forever trend that has certainly made it easier for me to pack over the years! I also love this yacht chic vibe I am seeing. Power shoulders and cinched waists, flattering on literally everyone. 

3-4 style tips on how you elevated your BY looks? 

Don't be afraid to throw in a masculine touch. I love a man watch or crisp white shirt over a matching set. Mix in a more fashion sneaker instead of a regular workout shoe to make it more fun. Pile on your favorite jewelry pieces! Try different ways of layering them. Find a tonal jacket to go with your set to better embrace the monochrome.  
 How do you Move in Beyond? 

How do I move? Well, the texture is so soft and yummy that it's a joy to work out in. Also yoga, dance, run, play with my kiddos, run errands, all of it. I do it all.  

Where can we find you IRL or online?
You can find me on SBJCT: Journal and on Instagram @erinwalshstyle.