To kick off 2023, we partnered with Megan Roup, founder of The Sculpt Society, to create The Together We Move Challenge. We created this partnership from our shared belief that movement can empower you to feel good in your own skin. Since the challenge was online, we hosted a special in-person event to celebrate it.  
On a clear February morning, we arrived at the Proper Hotel rooftop terrace overlooking Santa Monica with a view all the way to the ocean. Our team got to work rolling out yellow mats from our friends at B Yoga, and local florist Tabia Yapp arrived with a cartful of arrangements bursting with eucalyptus, dahlias, and marigolds. With everything set up, attendees began arriving for class. Everyone was outfitted in our new perfect neutral, Woodland Heather, and our friends at APL gifted sneakers to keep everyone comfy while working out. 
The class began with a special announcement from Michelle, Beyond Yoga's co-founder and CEO, sharing why the partnership was so meaningful to both of our brands. Megan took over from there, turned up the music on a killer playlist, and led a signature Sculpt Society sculpt class. After we alldiscovered muscles that wedidn't know wehad, we refueled with an Acai bowl bar and fresh-pressed juices. Before the morning wrapped up, Large Lemonade embroidered a Recharge Pullover for everyone.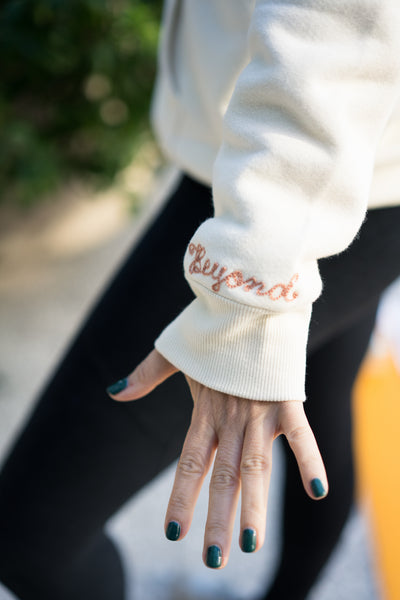 Thank you to Megan Roup and The Sculpt Society for creating an unforgettable morning with us to celebrate our partnership!