Los Angeles is our hometown, so for our very first blog featuring a fellow Angeleno, we wanted to talk to someone with a strong sense of home. On one of the first Fridays in January, we arrived at Kristina Bing's East Los Angeles home and were immediately taken with the sunny space decorated with pops of color from carefully chosen pieces. We chatted with Kristina about how her personal style inspires everything from the furniture she selects for her home to her career as a visual merchandiser at Lisa Says Gah.
Hi Kristina! Tell us a bit about who you are.

Hi! I'm Kristina Bing. I'm a content creator and punch needle enthusiast living in Los Angeles. I have a deep love for art, music, and my family.
What's punch needling?  


Punch needle rugs are made by a small punch needle that pushes yarn through fabric and makes a loop to form a rug.  My girlfriend and I learned how during the pandemic, to pass the time, and it's currently our favorite hobby.  
Your sense of style is so unique. What or who are your biggest inspirations?

I pull a lot of my inspiration from nature and art; I love looking at the shapes and curves of landscapes. Some of my favorite artists are Kenesha Sneed, Ana Leovy and Lauren Pearce—I love the explosions of color in their work. I also love The Modern House Journal! I aspire to be more minimal and live with less and the homes featured are always so thoughtfully decorated. 
From the Jungalow to Lisa Says Gah, you've worked with some of our favorite brands that have a style as distinct as yours. What attracted you to lend your talents to these brands?

I've always worked in merchandising in both fashion and home decor. Jungalow is great with color and bringing the outdoors inside—I have really leaned into my love for houseplants and greenery. Lisa Says Gah is such a burst of inspiration and I've been a fan of the brand for years. I love the unexpected styling pairings and focus on sustainability.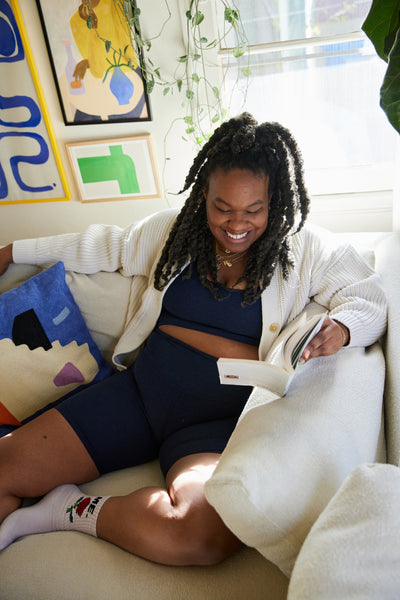 What are your favorite pieces of BY? How do you #MoveInBeyond?

All of them. The SoftMark Prismatic Collection is my absolute favorite—the colors are so me and I can't believe how soft all of Beyond Yoga's pieces are. I'm a true size 16 and I feel so comfy in all of my BY pieces. I also love the extended sizing and bold color options in anything Spacedye; it feels like wearing pajamas. After I work out in BY, I find myself changing into different sets to run errands in and lounge around the house.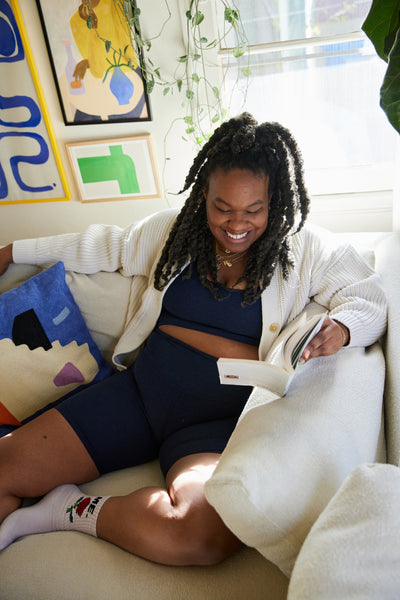 Just like your sense of fashion, your home is so distinctly you. How do you choose pieces to bring into your space?

A good mix of vintage and new is always my go-to. Some of my favorite pieces in my home are from small secondhand sellers, and the pieces feel so special and really breathe life into my space. I'm all about a space grounded in neutrals with bold pops of color.
Do you have any advice for someone curating their space?

Invest in pieces that you truly love and don't rush and spend all your money at once. It took me over a year to find the perfect vintage dining table and it was worth the wait!
You share our hometown of LA! What's your favorite part about living here?

I love the weather, museums, and food! Some of my favorite museums are the Norton Simon, the Museum of Motion Pictures, and MOCA. Some of my favorite restaurants are Alta Adams, Kismet, Raffi's Place, and Armon's Eagle Rock. 
Any upcoming projects or anything else you'd like to share with us?

One day I will sell my punch needle rugs! 

Where can the BY Community find you online or IRL? 
You can follow me on Instagram at @kbing! 
Photography by Ye Rin Mok